As a well-tech start-up that supports companies with their well-being needs, studio BE practices what we preach. Some of these approaches were in place long before COVID rocked our worlds in 2020, others have grown out of a need to be flexible and adapt to the new circumstances the pandemic brought.

We hope you'll consider adding one (or several) of the following to your workplace routine to help your team connect, focus, show gratitude, and even have a little fun.

We begin each day with a 'stand up.' A stand up is a quick, morning opportunity for the team to gather—virtually or in-person—to offer updates or present specific asks regarding the day's goals. These brief check-ins (some as quick as 10 minutes!) keep communication flowing and support available.

We utilize bi-weekly retros to encourage, inspire, brainstorm (and vent). These longer-form meetings aren't exclusively about work, but about issues we confront in today's complicated world. These meetings create a safe container for the team to share openly about personal and professional challenges—a protective space for team members to voice concerns, seek feedback, and garner support.

We host weekly meditation sits. Team members are invited to gather once weekly for a 20-30 minute mediation period. studio BE teachers volunteer to lead these sessions, holding space for restoration, reconnection, and rejuvenation.

We leverage Slack as a tool to connect, personally and professionally. While we fully acknowledge Slack has its drawbacks (and we highly, highly recommend using it in time blocks and silencing those notifications), studio BE uses Slack's channel feature to stay connected as a team that's spread worldwide. Some favorite channels include "gratitudes" and "shout outs" where we express thanks and jobs well-done, as well as "random," where the team shares jokes, interesting articles, tidbits from our personal lives, or even things that are weighing on our hearts.

We take a hike. Inspired by National Take a Hike Day on November 17, the team members that are local to our HQ in Wilkes-Barre, Pennsylvania have been meeting monthly (in all sorts of weather!) at a nearby state park to connect with nature and each other. During these hour-long walks through the woods we discuss topics relating to work and to life and sometimes just enjoy the crunching of the leaves, the stillness of the snow, the whooshing of the wind.

We log in together. Finally, the studio BE well-being portal is available to our team at any time. It isn't uncommon for someone to send out a note in Slack that says, "Meet me at the Quick Stretch break in ten minutes." This is a wonderfully informal way to connect with each other and share a brief moment of self-care. Jumping into these classes together results in calmer, more productive, and more focused workdays.
If you're looking for support for connecting with your team, contact hello@meetyourcenter.com to learn how to bring well-being to your employees.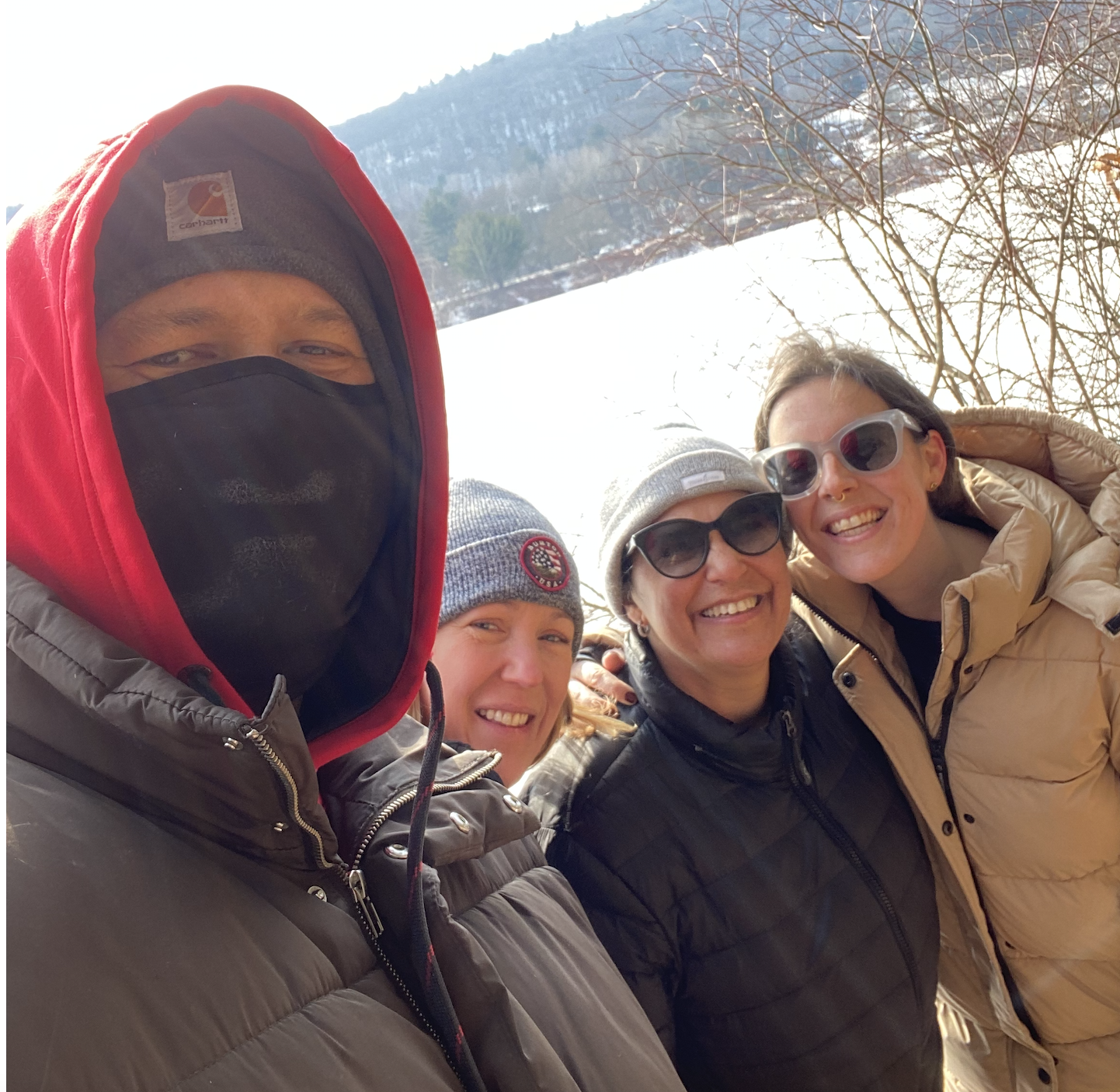 Paula Chaiken is Director of Outreach and Public Relations at studio BE. While she's not a fan of Slack, she does enjoy gathering virtually and in-person with her colleagues.