When Shawn Walker joined the studio BE team as a sales executive, he didn't realize he'd be adopting mindfulness practices along with his new position.
A childhood riddled with anxiety that dovetailed into an adulthood burdened with depression, Shawn found hope and a way to show himself long-needed love and compassion through mindfulness.
The depression started 20 years ago.
Before that, though, anxiety ruled my days.
I can remember anxiety interfering with life even as a little boy.
I can still see myself, with vivid detail, playing at my grandparents' house with my cousin. I can still feel it, too, the pain creeping across my chest.
Certain I was going to die, I removed myself from play, left the basement, walked straight past the adults, climbed the stairs, and hid in the tiny closet of the back bedroom.
In fear, I stood there…waiting for my life to end.
The thought that something was wrong with me lingered for years to come. Too young to understand it or name it, anxiety is what I was feeling.
Over a decade later, I'm a senior in high school. I'm popular. Smart. Good grades. Great family. Girlfriend. Friends. Athlete. All of it.
And nervous.
So incredibly nervous.
One semester, needing to complete a research paper, I borrowed several books from the library to use for reference and citations. The due date for those books came and went, and I failed to return them on time.
Not the worst offense for a bright, well-respected high school kid, but a completely immobilizing situation for me.  
Instead of returning them late and paying the 25 cent late charge, I became anxious about it. Consumed by it.
I just couldn't bring myself to take them back.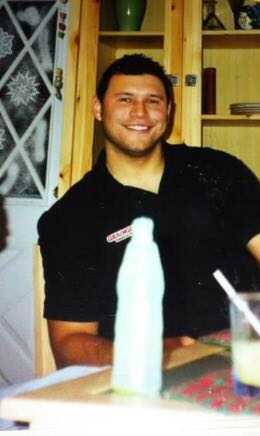 Every day I saw those books underneath my TV stand and every day the anxiety ignited and flared. The nervousness, the fear, the complete shutting down… it all intensified as anxiety deepened its roots in my system.
Situations like these became patterns, ultimately turning into depression in my early 20s.
I couldn't get out of the shower in the morning. I couldn't stop crying.
What the hell was wrong with me?
As the struggle endured, I tried to cope. I tried to toughen up, push through, and persevere. A young man entering adulthood in the 90s, turning toward myself with compassion or love wasn't exactly in the plan.
So it wasn't easy. And it hasn't been easy. I don't know that I could ever put into words how difficult it has been. Because these difficulties don't know boundaries — they leak into every part of your life, every moment of your days.
Today, at age 45, I've learned a lot about anxiety, depression, and (perhaps most importantly) myself. The struggle is still real, but education, awareness, and a whole lot of self-compassion have set me on a new path.
My daily routine of gratitude and prayer were an instrumental ritual in my life, but I felt deep down that something was missing—a need for something more.
I longed for my brain to not only to cope, but to heal.
Little by little, I began adding mindfulness practices into my daily routine and it's changed everything.
Why would I do that though? How would I know where to start?
Glad you asked.
In the midst of the pandemic,I transitioned to a new job at a startup called studio BE, a company that focuses on well-being of the whole person through mindfulness practices. Our goal is to support people as they navigate chronic stress and burnout and the complexities of life in 2022 and it struck me: Why not me? I'm not a meditator or yoga guy. But why not? What's it gonna hurt?
So bit by bit and day by day, I've added practices to my toolkit.
One of these practices is meditation.
When I started, I'll be honest, I had no idea what I was doing. A few months later and I'm still no expert—not even close, really—but, my life has changed.
I'm not a yogi. I'm not a mindfulness guru-guy.
I'm just Shawn, a regular human being, son, husband, father, professional, etc. etc.
In other words, I am you.
Life is complicated these days—COVID has really done a number on so many of us—but I know can lean into one simple truth: my life is better since these practices entered into it.
My heart has opened since these practices entered into it, too.
They just might be able to shift things in your life—even just a little—in a positive direction, too.
If you're looking for an easy place to start, here's one of my favorite practices for those anxious moments that still sneak up on me from time to time.
Guest post by Shawn Walker, Senior Account Executive at studio BE.
Shawn Walker is a relationship builder and superior communicator versed in mindfulness practices. His professional experience spans involvement in territory sales, account management, business development, corporate sales, sales management, and sales leadership. He is also a devoted father and husband, pastor, and school board member. When he's not busy, you can find him on the basketball court or in the stands cheering on his favorite players.